Anfang August heiratete die Britin Callie Thorpe ihren Freund Dan. Ein Happy End, denn: Aufgrund ihrer Übergröße hätte sich die Britin niemals vorstellen können, jemals zu heiraten. Sie hatte sogar Hemmungen, ein Hochzeitskleid anzuziehen. Doch sie ließ sich nicht entmutigen: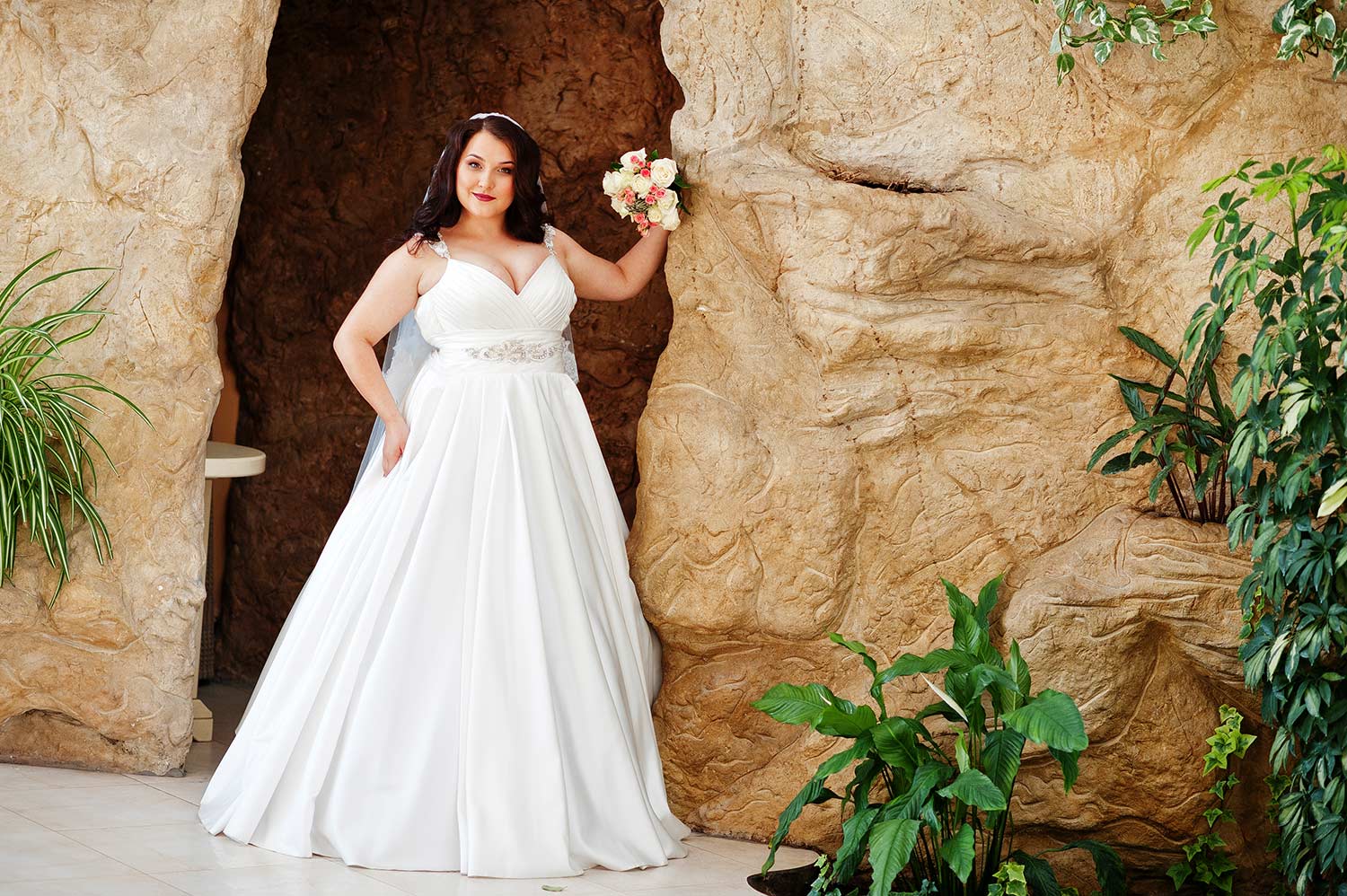 "Wenn man älter wird und von den richtigen Leuten umgeben ist, merkt man, dass für die Menschen, die dich lieben, dein Aussehen keine Rolle spielt. Dan hat mich immer geliebt, egal, welche Kleidergröße ich hatte. Als ich am Tag unserer Hochzeit den Raum betrat und er sich nach mir umdrehte, hatte er Tränen in den Augen. Er sah mich an, als sei ich magisch."
Mit ihren Hochzeits-Bildern und Postings will sie andere ermutigen: "Mein Appell an alle Bräute, egal, ob sie Übergröße haben oder nicht: Denkt nicht, dass ihr euch oder eure Kleidergröße ändern müsst, nur um eine glückliche Hochzeit zu haben. Euer Partner liebt euch für das was ihr seid, nicht aufgrund eures Aussehens. Ihr habt es verdient, glücklich zu sein, egal, welche Maße ihr habt. Und ihr werdet immer noch die wunderschönste Person im Raum sein, wenn ihr neben eurem Partner steht, denn: Die Liebe, die ihr füreinander empfindet, lässt euch beide strahlen. Ein "Happy End" gibt es für jeden von euch, also bitte bitte, glaubt daran! 
Ein von Callie Thorpe (@calliethorpe) gepostetes Foto am 11. Aug 2016 um 0:22 Uhr
Die Bloggerin freut sich über all die neuen Fans auf Instagram und bedankt sich auch bei den langjährigen Followern.
Photo by @instaweddinguk Thank you for all the love, over the last couple of weeks, especially with some of my wedding posts going vita. Thank you to the new followers here who have left me wonderful uplifting comments but also to the old, especially to those that have been with me here for a while. When I decided to start a blog all those years ago I knew very early on that I was putting myself out there for the world to judge but little did I know I would gather the support of some of the most wonderful people all over the world. I love sharing mine and Dan's life with you as I believe we have a responsibility to live our most happy and authentic life and show others that they must leave their prejudices behind. To those of you who take the time to comment, uplift or answer my daft questions – I love you! You are great and wonderful and remind me that the world is full of goodness ❤️
Ein von Callie Thorpe (@calliethorpe) gepostetes Foto am 22. Aug 2016 um 2:48 Uhr
Zur Hochzeit gabs eine goldgesprayte Flasche Bier und Strongbow Cider aus der Gold-Dose
Our first drink together was from a bottle of gold spray painted beer and a can of strongbow cider. ✨✨✨✨✨✨✨ #keepingitclassy #caldanwedding thank you @phoebe_ldn who sprayed every single one. We love you ✨ photo by @kirstymackenziephotography
Ein von Callie Thorpe (@calliethorpe) gepostetes Foto am 14. Aug 2016 um 4:22 Uhr
"Ich war so nervös, meine Hände haben gezittert und ich hatte Herz-Flattern…", schreibt die Braut auf Instagram.
About this time last week my girls were getting me out of our cab outside of the town hall that I was about to marry Dan in. I was so nervous, my hands were shaking and I had flutters in my chest, my mouth was dry and I couldn't keep still. The waiting was the worst but my girls took good care of me ❤️ MUA: @sharlottejacks Hair: @smuk_london
Ein von Callie Thorpe (@calliethorpe) gepostetes Foto am 13. Aug 2016 um 5:32 Uhr
Die Bloggerin steht zu ihrem Körper und sündigt auch mal: "Ja das waren Eis-Sandwiches und ja, sie waren fantastisch!" 
The saying 'We accept the love we think we deserve' is a truth that more of us need to realise. Growing up I didn't think I would find anyone to love me unless I lost weight. Little did I know that I would meet someone who loved me regardless of what I looked like. @thecomplexcreative helped build my confidence more than I ever could because he continually reminds that I deserve to be loved as much as I love him When you find the right person, a person that makes you laugh, shares your struggles, uplifts you when times are low it doesn't matter what you look like or what size dress you wear because all of that means nothing. Let someone love you for you, whether you want to change your body or remain the same, the love you have for yourself matters because when you love you, you can truly receive love back. Ps yes those are ice cream sandwiches and yes they were amazing. Thank you @miloandhectors for providing our desserts we loved them so much Photography by @kirstymackenziephotography
Ein von Callie Thorpe (@calliethorpe) gepostetes Foto am 11. Aug 2016 um 9:08 Uhr
Die Braut liebte das Dessert: "Salzig gebranntes Toffee zwischen zwei Doppel-Schoko-Keksen, mit Karamel-Sauce und Streuseln." 
It's such a gloriously sunny day and right now I would do anything for one of our wedding dessert Ice Cream sandwiches from @miloandhectors Salted burnt Toffee sandwiched between double chocolate cookies topped with caramel sauce and sprinkles.
Ein von Callie Thorpe (@calliethorpe) gepostetes Foto am 15. Aug 2016 um 9:21 Uhr
"Wie schön er aussah in seinem Anzug!", schwärmt die frisch gebackene Braut von ihrem Mann.
Photo by @instaweddinguk How handsome does @thecomplexcreative look his suit was from @riverisland and it suited him just perfectly. #caldanwedding ❤️❤️❤️❤️
Ein von Callie Thorpe (@calliethorpe) gepostetes Foto am 10. Aug 2016 um 7:42 Uhr
Callie beweist: Auch als Plus-Size-Frau kann man im Hochzeits-Kleid traumhaft aussehen.
I don't care if we on the run Baby as long as I'm next to you And if loving you is a crime Tell me why do I bring out The best in you
Ein von Callie Thorpe (@calliethorpe) gepostetes Foto am 9. Aug 2016 um 9:43 Uhr
Dan liebt seine Frau, so wie sie ist. 
There are times.. when you'll need someone.. I will be by your side.. There is a light, that shines, special for you, and me.. – Common the light This song will for ever remind me of @daniellevanier ❤️ its our song Ps I actually owe a lot of my golden glow to St Tropez who kindly set me up with one of their professional spray tans! I couldn't recommend them highly Enough @sttropeztan
Ein von Callie Thorpe (@calliethorpe) gepostetes Foto am 8. Aug 2016 um 10:43 Uhr
Die Britin ist überglücklich: "Ich habe die Liebe meines Lebens geheiratet".
I married the love of my life. 06.08.16 Hair: @smuk_london MUA: @sharlottejacks
Ein von Callie Thorpe (@calliethorpe) gepostetes Foto am 7. Aug 2016 um 0:26 Uhr
Silvia Kluck
Hochzeitskleider In Übergrößen – Hochzeitskleider In Übergrößen